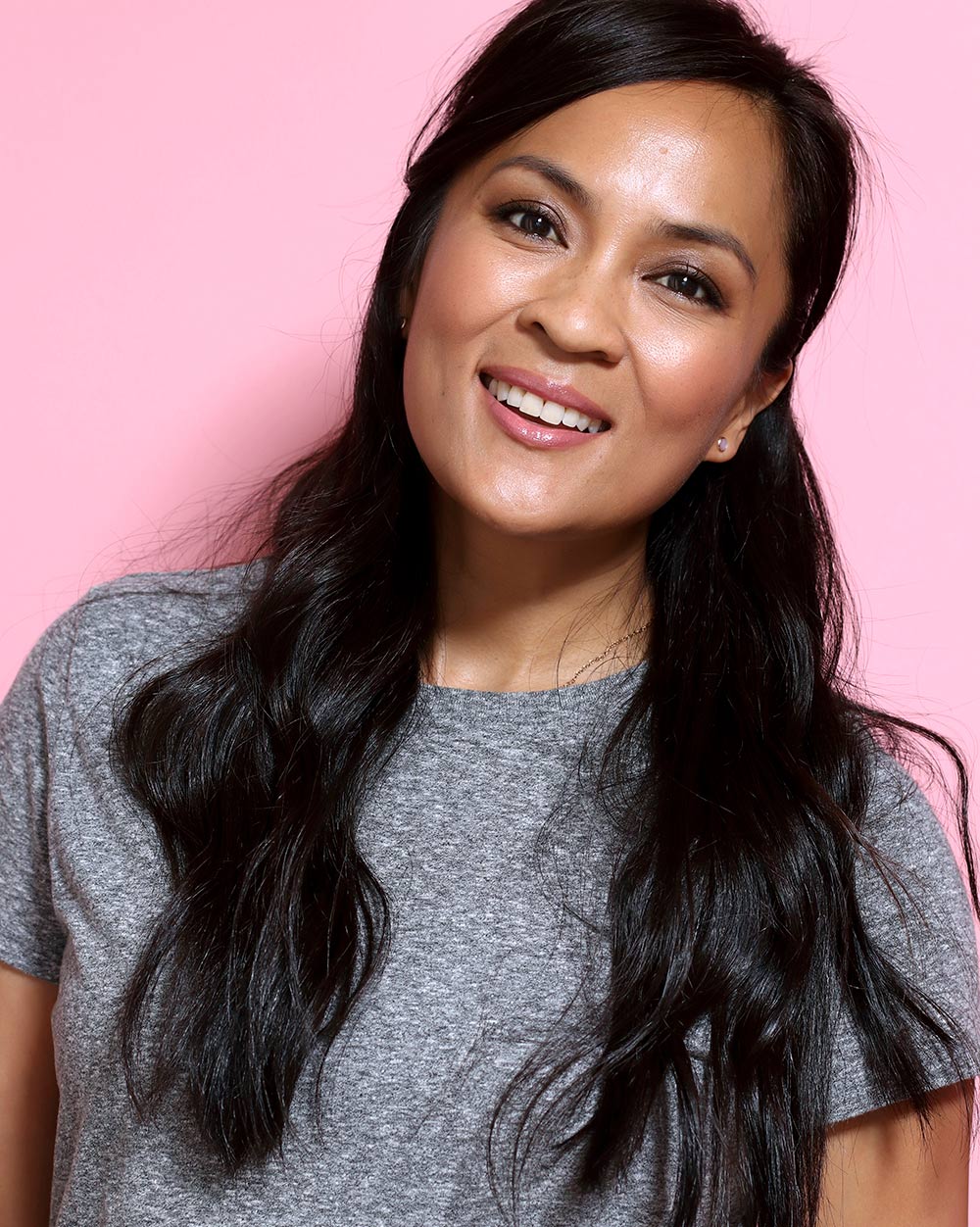 Good morning, my friend! Here's another look at one of my favorite MAC eyeshadows of all time, Extra Dimension Eyeshadow in Havana. It's a deliciously gorgeous brown that I think you'll love. I've worn it for years and still love it just as much as ever.
Girl… One day. One day I'll sit down, put on my makeup for the day, and NOT do a brown smoky eye.
But today was not that day. 🙂
I had to run errands, and I wasn't about to spend 45 minutes on my makeup just to buy some Charmin, so I went with something I'm (very) familiar with. I had to go to the pediatrician's office to get a form for Connor's pre-school enrollment, and then hit Target to get an industrial-sized case of toilet paper because last night I realized that we only had four rolls left in the house — total — which amplified my anxiety by like a million percent, so out came one of my favorite brown eyeshadows in the world, MAC Extra Dimension Eye Shadow in Havana.
I think it deserves more love than it gets.
What's an unsung makeup hero? For me, it's an oftentimes underrated makeup morsel, a permanent collection product that scoots under the radar screen of many makeup lovers but regularly rocks my world. The long-running Unsung Heroes series features some of my favorites.
Side note: whenever I say "Havana," I think of that Camila Cabello song.
Havana, oh-nah-nah… La-la-la-la-la-la Havana oh-nah-nah…
That's about the only part I know, LOL!
Havana ($20) is a beautiful warm-toned golden brown without any orange or red undertones, and it's perfect for when you just want to wear one eyeshadow on your lids. Buff out the edges, throw on some eyeliner, and you're golden. It blends out so easily, too. No matter what your skill level, you can create lovely gradients with it, and it's the kind of brown that goes with most lip colors (more on this in a sec).
And the finish? Oh, man, it's UNREAL. It's unlike anything else in the MAC shadow fam. It starts out looking kinda glossy — but not frosty! — but it slowly transforms into a beautiful glowing satin as the day goes on.
It's SO FREAKIN' PRETTY! It's also kind to fine lines, which is another huge plus.
I usually wear Havana with a matte brown liner (one that isn't too warm) like MAC Coffee, but you can also wear it with shimmery browns like MAC Teddy. Costa Riche liner might also work…but I think the warm red undertones in it might clash with Havana's golden tones. That might look a little off… But any standard-issue black liner would totally work if you want to do more of a sultry night look.
As for what lip colors to wear it with, Havana goes well so many different shades, from warm peachy nudes to warm pinks to warm coral-pinks like I'm wearing here. It's MAC Nippon (a Cremesheen), which is weird because you might not expect this particular brown eyeshadow and this particular coral-pink to go so well together, but they do.
If you wanted to go with a bolder lip, I think a matte orangey red would look amaze-balls, too. I was actually contemplating wearing MAC Quite the Standout today instead, but I was thwarted by dry lips.
BOO! FLAKES!
Oh, well. There's always next time. And trust me, there will be a next time with Havana. Add MAC Extra Dimension Eye Shadow in Havana to your wish list like now.
Havana-oh-nah-nah… 🙂
Your friendly neighborhood beauty addict,
Karen
The MAC Unsung Heroes series (a subset of my regular Unsung Makeup Heroes series) features some of my all-time favorite products from MAC's permanent collection
If you're looking for permanent collection ideas or inspiration, there are literally hundreds of unsung makeup heroes posts in the MBB archives. These 20 are just the tip of the iceberg.